Call Today for a Confidential Appointment:
914-584-8922
Moss has written and traveled and provided articles
for the Internet on many topics in mental health.
She is an avid hiker, yoga practitioner and swimmer
and is married with two children.
Training includes
:
Employee Assistance
Drug/Alcohol
Cognitive-Behavioral Therapy/DBT
Couples Therapy, Family Therapy
Mindfulness and Relaxation
Health, Wellness, Fitness, Diet
Trauma, Grief, Loss, Bereavement
Divorce Mediation with Attorney/Mediator
Depression/Anxiety
Work/Life Balance
Kripalu Yin YOGA teacher training
Benefits of Group: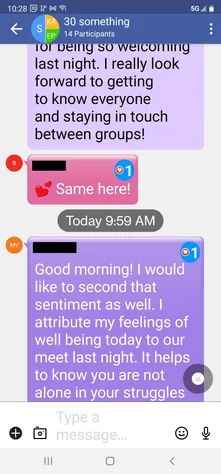 NEW OFFERING: COLLEGE PREP - choosing, essay eval, hands-on support, liaison with school, summer internships, anxiety, testing help, emotional support animals, resume eval, and more!!
BA - ENGLISH AND COMMUNICATIONS - SUNY-ALBANY
MASTERS - PSYCHOLOGY - NYU
MASTERS - SOCIAL WORK - YESHIVA UNIVERSITY
LICENSED CLINICAL SOCIAL WORKER - New York

GROUP FOR Young Adult Girls meets monthly
GROUP FOR Teen Girls meets 2x per month
GROUP FOR "30-Somethings" - monthly
In process groups, 5-10 individuals meet face to face to share their struggles and concerns with 1-2 trained group therapists. The power of process groups lies in the unique opportunity to receive multiple perspectives, support, encouragement and feedback from other individuals in safe and confidential environment.

Adjunct Professor of Psych 101 and Social Work 101 at Mercy College and Faculty Presenter for Chiprodevelopment , a National CE Provider
SEE NEW ARTICLES ON TEEN TEXTING: NOW PUBLISHED ON PSYCHOLOGY TODAY!
INCLUDING TIPS FOR PARENTS.
E-BOOK: Coping with Teenagers

RADIO INTERVIEW - EMOTIONS R US - TEENS LIVING IN THE AGE OF FEAR
NEW ARTICLE: PSYCHOTHERAPY.NET - TEENS: THE GOOD THE BAD AND THE UGLY
SOCIAL MEDIA - HOW TO REGULATE YOUR CHILD
NEW JOURNAL ARTICLE: PANDEMIC AND YOUNG ADULT STRESS
CLINICAL SUPERVISOR - SOLACE HOUSE- Non Profit SUICIDE PREVENTION SERVICES

Sacred Spirit Yoga - Board of Directors

Client Testimonial 2014:

"As you know I've never been a happy person. I was thinking a lot during my break just now...I used to be a very anxious and sad and de pressed and angry person with the occasional happy moments. Well my whole life actually. And then this summer without me even realizin g things started to turn around, between getting off my Meds, changing my major, loving my job, finding my purpose, letting go of my past and accepting myself and the things/people I can not change and finally giving myself permission to feel, I changed. And now I'm an incredibly happy person with the occasional sad, anxious, depressed and angry moments. I never ever thought I'd get here. I thought it wasn't possible for me. And I just want you to know that meeting you was the beginning of everything. I can't thank you enough💙" --JG