Now offering Telehealth!

In a warm, casual and caring home-office I offer what you need: supportive, goal-oriented, cognitive/behavioral, existential, practical, process-driven and proven methods for dealing with anxiety, stress, trauma and depression and moving toward healthy, peaceful living.
With 30 year's experience in areas such as: adolescents, young adults, infertility, cancer, health, stress, divorce mediation, mindfulness, families and children of divorce, parenting, women's issues and more, I have a deep understanding of many life transitions. I have worked in both corporate and non-profit settings in healthcare leadership roles, including National Director of Patient Services for the Leukemia Society of America, Health Educator for New York Association for New Americans, and Community Director for Weightwatchers.com. The first appointment will be helpful in understanding the client's history, expertly assessing the level of crisis, and determining if the rapport is comfortable.
Mom of 2 Young Adults and a STUBBORN Husky named Milo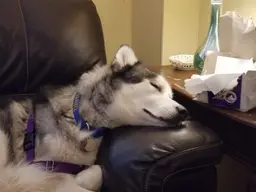 *COVER ART BY ROSALIND BANK
---